Pin It
I have been wanting to purchase a really good "summer" time scrub for the longest time and I bought one from the Body Shop a month back. Since then I have been using it religiously and it sure is a delight to use :).
I am not a huge fan of body scrubs but this time my skin started becoming a little moisture deprived and my trusty moisturisers were not enough. So, I decided to incorporate exfoliating the dead skin on my body prior to moisturising and that is how I ended up buying this. Why did I buy the "Mango Scrub"???? Just 'coz its summer time and mangoes are my favourite fruit. The smell of this scrub is simply A-M-A-Z-I-N-G!!!!The tub that I bought is 300 ml and it is quite huge.
I love the bright yellow tub, reminds me of summer, mangoes and everything tropical and yummy.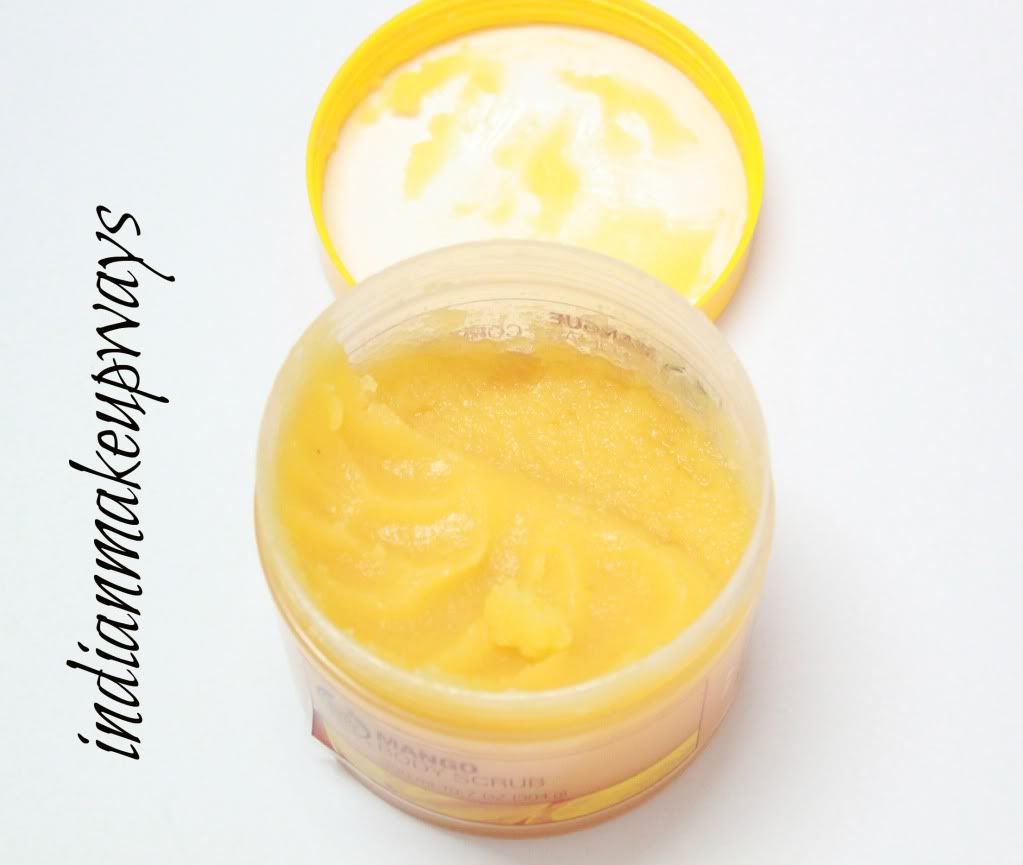 Doesn't it look like mango pulp????
Pros:-
Easily available at body shop counters
The scrub is not too scratchy
The granules dissolve into the body while scrubbing
It exfoliates really well
Very Very moisturising
It smells just like mangoes and your whole body will smell like this amazing scrub!!!!
A huge tub which will last for a long time
A small amount goes a long way
Cons:-
-If you use too much it can leave a film on the body which is a bit annoying(I had to endure it the first time I used it as I went a bit overboard with the whole thing 'coz of the smell....I couldn't get enough of it)
-The smell can be a little too much for some as it feels like you have taken bath in a tub of mango pulp(I personally LOVE the smell)
-The price tag is a bit hefty Rs 1145/- for a 300 ml tub
Overall:- I would definitely buy this scrub again as it does its job for me and I am in love with the smell.Its a winner for me :)