Pin It
I was thinking about a possible blog topic and it suddenly struck me.......what better than my all time favourite "makeup products"????? So here is the list and if you want the detailed review please click on the respective names of the products and you will get to the review page OK? Enough with the introduction lets take a look at my all time favourites :)
Eye Products

1) Mac Smolder:- I can go on and on about this favourite eye kohl of mine but beware this is a smudger. Its perfect for smokey eye looks. Its a cult favourite to many. You can read here the reviews of
Smolder
& comparison between
smolder & maybelline colossal kajal
2) Loreal gel liner:- I used to be a fan of maybelline studio gel liner but currently using the loreal liner and I do think the
loreal
one is much more creamier than
maybelline gel liners
.
3)
Maxfactor false lash effect Mascara
:- I recently purchased this and now I use this everyday for great clump free eyelashes. Its a great mascara that lengthens the eye lashes & gives it a curl boost
Face Products

2)
Mac Msf Natural
:- Great setting powder for a natural feel & look from Mac. But beware it can make some people really oily and can some times cause breakouts!
3)
Mac pinch me blush
:- I don't use blush on a regular basis and I don't have a huge blush collection but this blush suits my skin tone a lot and I have received compliments whenever I used it in the past :)
Lip Products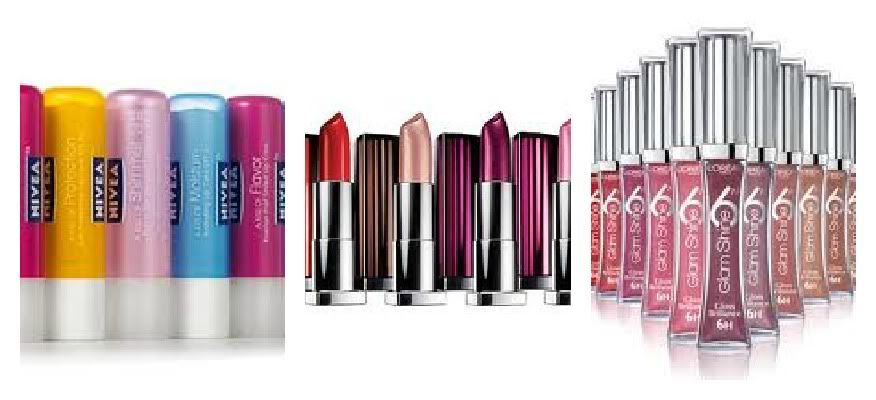 1)
Nivea lipbalms
:- These are my must haves as they are really moisturising & easy to get hold of. I highly recommend these.
3)
Loreal glam shine gloss
:- These glosses honestly are not the best in the market but I do have atleast 3 of them so I use them all the time and its quite expensive! I still can't believe I haven't reviewed other new lipglosses which I will be doing soon :)
So, this is my short list of makeup products that I tend to use more often. Till my next post, Ciao.
This is a
Comment-free
blog since 21st May 2012