Pin It
I am on the fence with this product. I like it..........but I don't like it. This is my 2nd buy though! 'coz this really suited my oily skin and acted as a great moisturiser..........its a great product that has some pitfalls. Ponds released this in Asia under the name white beauty and I hope you guys remember the saif-priyanka chopra ad(what was tat!!!! dusky gals dont get guys..........tats just soooooo derogatory!). I didn't want to try this product first but my room mate had this with her and I tried it once and it really surprised me by being a good moisturiser!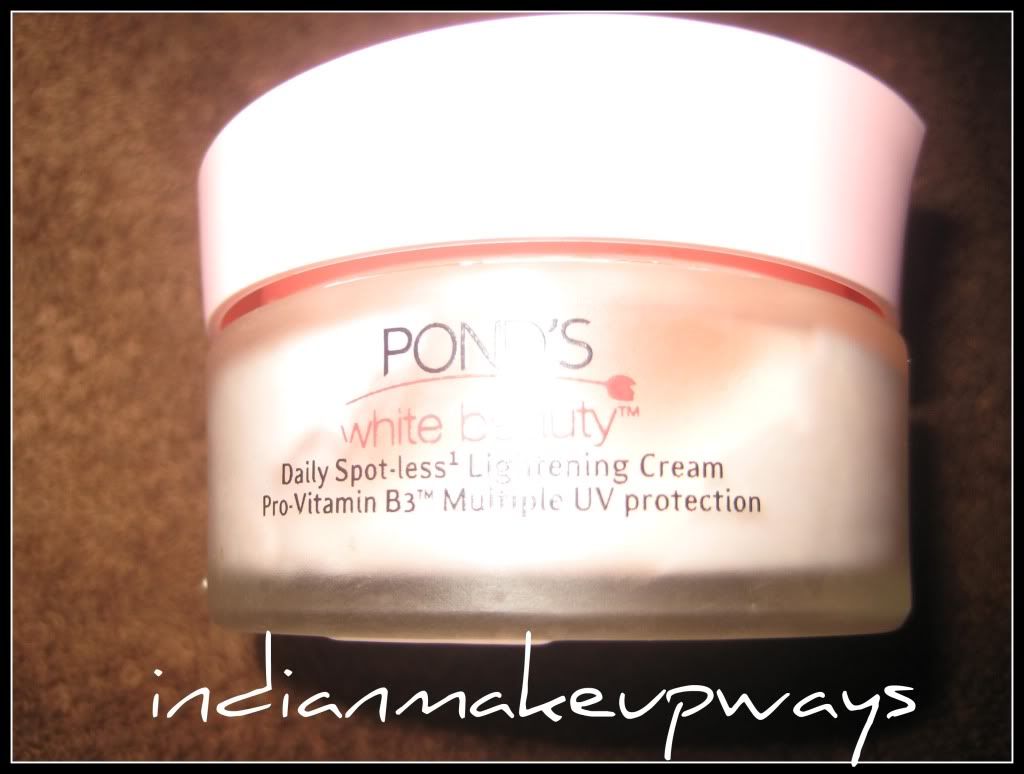 Eventhough this is a so called "whitening cream" I think people buy it more due to the promise of the produc lightening up the spots on face and this has pro vit B3 & multiple uv protection.Asians are always made fun of 'coz we like "whitening products" but I always see westerners going for tanning products! Guess........the grass is always greener on the other side! coming back to the review
Pros:-
Really cute girly packaging
Mousse like consistency, so its perfect for oily skin
Has a pinkish-white color & great smell
It has sun protection in it
Hydrates pretty well
It gives an immediate brightening effect to the face..........gives sort of a luminosity which is quite appealing
Easily available
2 yrs shelf life and affordable at a cost of 150 rs
Cons:-
Somehow this product makes me sweat a lot when I apply this on to my face and if I am not underneath a fan or in an ac room am done for!
Not that great with moisturising properties as it will accentuate any dry flakes one might have on the face
It promises to get rid of spots.....hmmmmmmm I really can't comment on that as I dont have many on my face and I don't think this helps with it a lot(I have read some reviews stating otherwise!)
Overall this is a good purchase for people looking for a decent enough moisturiser that can give sun protection and won't make skin extra oily. I don't use this that much now as I use my Vichy promat cream now(Thankfully I dont have many spots on my face so I don't have to rely on lightening products much)
Has anyone used this?? what's ur take??
Do check my personal blog
HERE