Pin It
I have been using my
TONI&GUY
heat tamer spray for some time and when I ran out of it, I asked one of my cuz's to send me Tresemme heat tamer spray as its not available in India. I was happy using it( its been with me for the past 5 months) and I am about to finish it and thats when I heard about Sunsilk Keratinology heat protector spray and I was so happy to buy a good quality heat protectant spray that is so easily available in India.
Its always good to use a heat protectant when you are blow drying, flat ironing or curling your hair. It helps to protect the hair from the heat damage. Honestly I do love both these hair sprays and I would definitely repurchase tresemme and I wish it were easily available in India :(. Anyway lets move on to the pros 'n cons of each hair spray
This is a 236 ml hair spray that helps to style & protect your hair against heat damage. Spray the product on to the hair from root to end before subjecting the hair to any heat. It will definitely help to minimise the heat damage. Its a cheap product easily available outside India. It works amazingly well with all types of hair and leaves the hair shiny and smooth. I love the smell of this hair spray. It does not weigh the hair down and the hair behaves pretty well even the next day. I always top it off with my
TIGI
hairspray to prevent any frizz formation. All in all this is a good hairspray, that is cheap and it does its job pretty well.
You can check out the spray if you are interested
HERE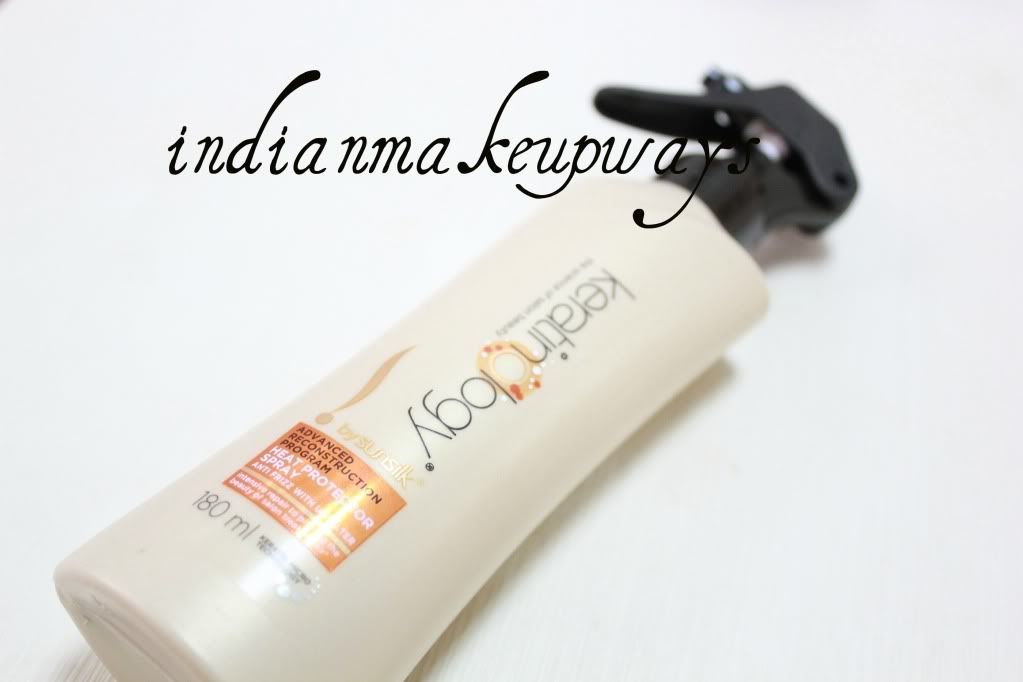 This is my latest heat protector spray and am pretty pleased with it.Its not that huge a bottle when compared to tresemme and holds only 180 ml of product. It is supposed to have KERATIN MICRO TECHNOLOGY to reconstruct the hair surface while micro nutrients penetrate into the hair cortex to deeply nourish the hair. You can use the spray on damp or dry hair prior to styling. I think I love this spray a bit more than tresemme as it gives my hair immense shine, smoothness and it also prevents my hair from any frizzies. Nowdays if I go out and I am ironing my hair I always use this spray as it gives my hair a really smooth straight look. It also has a nice "salon" smell to it. The spray comes out in a real fine mist. I am really pleased with this and will definitely repurchase but there is just one hitch.........it makes your hair greasy the next day........which can be a deal breaker for some people who does not take head bath everyday. Personally for me, its not a huge issue as I wash my hair every day. The price is 400 Rs and it is now available online as well as in stores. Do check it out
HERE
Did anyone use this hair spray yet.......do leave me a comment as to what you think about it and also do tell me if there is any other good heat protector spray that I should be checking out.....
Do check out my personal blog
HERE